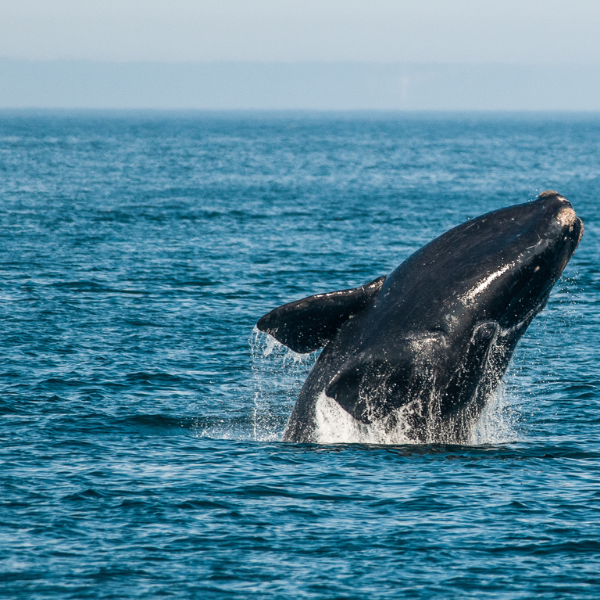 Five marine conservation groups are better equipped to welcome migrating North Atlantic right whales to Canada this season thanks to proceeds from a local craft beer. Today, Big Spruce Brewing and the Ocean Tracking Network announced the first round of 2021 funding raised by their colla'beer'ation, Tag! You're It!.
The Canadian Whale Institute, the Canadian Wildlife Federation, the Grand Manan Whale and Seabird Research Station, the Marine Animal Response Society, and the Canadian Wildlife Health Cooperative (Atlantic Region, based at the Atlantic Veterinary College at the University of Prince Edward Island) have received funding to support their work in protecting the critically endangered North Atlantic right whale.
Moira Brown, senior scientist at the Canadian Whale Institute, says the funds will support the operations of the Campobello Whale Rescue Team, which responds to emergency entanglements.
"More than 80 per cent of right whales have been entangled at some point in their lives and our whale rescue team is one of two permitted to rescue them in Canadian Maritime waters. The Tag! You're It! funds will help equip our teams and operate our rescue boats," says Brown.
The Marine Animal Response Society (MARS)—which responds to marine animal emergencies and performs animal autopsies—will also receive a portion of this year's funds. MARS works with other scientists and conservationists as well as government and industry to better understand threats and provide effective protection for right whales.
The funding will also support the development and use of new technology designed to reduce or prevent entanglements. The Canadian Wildlife Federation will use the funds to support educational programing to increase the use of new ropeless fishing gear. Funds allocated to the Grand Manan Whale and Seabird Research Station will support ocean monitoring to record the quality of right whale food sources and habitats.
"Right whales have become increasingly vulnerable to entanglements and ship strikes. These recipient organizations play a critical role—their work can make the difference between life and death for these whales," says Fred Whoriskey, executive director of the Ocean Tracking Network.
"Producing the right whale ale for a second year will allow us to allocate funds to organizations on an as-needed basis now that right whale season is underway in the Maritimes," says Jeremy White, co-owner and alesmith of Big Spruce Brewing.
TYI is available to purchase online at shop.bigspruce.ca and can be shipped anywhere in Canada. It is also available at the NSLC and at private retailers in Nova Scotia.