This summer, OTN and Nova Scotia craft brewer, Big Spruce Brewing, collaborate on a special beer that celebrates Maritime tradition: Tag! You're It!, the IPA with bite, is the marriage of craft cultures– Nova Scotia's world-class marine research and home-grown innovation.
How it all started
In November 2016, OTN executive directors accepted the prestigious Nature Inspiration Award from the Canadian Museum of Nature. The Award recognizes "organizations that encourage Canadians to take an interest in natural history, create links with nature and contribute to its preservation."
The $5K Award, given out during OTN's Oceans Week social media campaign, "5 Waves of Inspiration," is credited with inspiring and galvanizing the partnership between OTN and Big Spruce to further fund ocean research initiatives, a practice known as conservation financing.
What is conservation financing?
Conservation financing raises and manages funds to support the conservation of natural resources. In OTN's case, it's oceans; fifty cents from every can of Tag! You're It!, an original brew produced by our friends at Big Spruce, will be dedicated to research activities, both by OTN (including tagging and tracking sharks in the Northwest Atlantic), and other research programs and projects globally that address critical aspects of conservation, ocean stewardship or public awareness.
How about a shout out for our partners in crime?
Big Spruce is Nova Scotia's only certified organic, unfiltered, unpasteurized brewer. They also happen to be a staple pit stop for OTN field technicians doing work in northern Cape Breton. We've developed a pretty good rapport, so when we told them about our idea, they were on board in more ways than one.
"Conservation is something we try to brew into every pint. The world has only a finite quantity of resource, and businesses need to do everything they can to recognize this and act sustainably in how they operate," said Jeremy White, founder and alesmith, Big Spruce Brewing.
Where does the name Tag! You're It! come from?
During the second year of OTN's blue shark tagging program, Canadian political satirist, TV personality and national treasure, Rick Mercer, joined an OTN expedition to acoustically tag 14 blue sharks. Rick had the incredible opportunity to swim with several inquisitive blue sharks under the watchful eye of OTN executive director, Fred Whoriskey, and Dalhousie veterinarian and underwater photographer, Chris Harvey-Clark. Rick's sign off for the segment, which aired in November 2014, was "Tag! You're it!"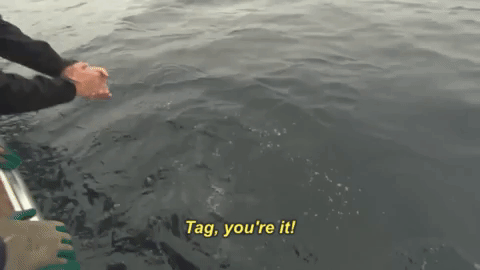 What's a tag?
Wildlife tags are used to track the movements, behaviours, and survival of terrestrial and aquatic animals. They range from radio collar tags (e.g., moose, cheetahs, wolves) to implantable acoustic tags carried by fish and other marine wildlife, because radio waves don't work underwater. Types of tags: acoustic tags send out a sound pulse ("ping") which is logged on an underwater hydrophone. Researchers retrieve hydrophones and download the pings which give a precise location. Satellite tags are attached externally and relay with satellites when the animal surfaces. Satellite tags transmit their GPS coordinates in near real time so that researchers know where they are as soon as they reach the surface.
Why sharks?
Sharks appeared ~200M years before dinosaurs… they deserve our respect.
Sharks are caught and killed faster than they can reproduce; researchers are trying to understand the ecological impacts of fewer top-predators.
There's evidence that removing sharks and other top-predators from the ocean ecosystem creates a trickle down effect that negatively affects entire ocean regions and their inhabitants.
Tracking long-term movements and key habitats like mating grounds, feeding grounds, and migration routes can help establish protected areas so that sharks have the best chance at survival.
100M sharks are killed every year by humans; 63% are finned and discarded (enough to satisfy the protein requirements for 50M people every year).
Tag! You're It! in the press