Amy (Ryan) Hill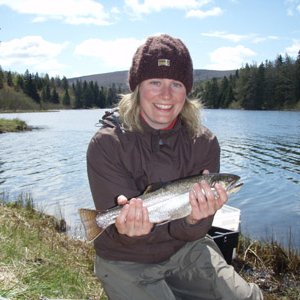 Amy Hill holds a Bachelor of Science (Marine Biology/Oceanography combined) and a Masters of Marine Management degree from Dalhousie University in Nova Scotia.
Funded by the Canadian Wildlife Federation, Amy's masters' work assessed the role of habitat destruction as a threat to marine species at risk and evaluated the role and designation of critical habitat as defined by the Species at Risk Act for the conservation of marine species at risk in Canada. Amy presented her work and won second place for best poster at the Sustainable Oceans Conference held at Dalhousie University in April 2013.

Her undergraduate work involved the quantification of energy content in calanoid copepeods, a staple in the diet of the endangered North Atlantic right whale. The results of this study were published in a manuscript she co-authored entitled "Measured and inferred gross energy content in diapausing Calanus spp. in a Scotian shelf basin." Amy previously worked as a laboratory technician in Dr. Sara Iverson's physiological ecology lab conducting lipid analyses on marine and terrestrial vertebrates, the results of which are used to examine species diet and foraging ecology.