Many species of whales around the globe are threatened by ship strikes, fishing gear entanglement, noise pollution and climate change, particularly during their migratory journeys, which make up some of the longest distances travelled by any mammal.
On January 29, six research institutions across Canada launched three autonomous marine gliders simultaneously near Flores Island, B.C. to record whale calls and map their migrations. The mission is helping quantify whale hazards and make navigation recommendations to the Navy and commercial fishing industry, and also potentially modify shipping lanes to accommodate known migratory routes. It's also the first coordinated glider mission between research institutions in Canada and opens the door for harmonizing ocean monitoring efforts on Canada's three coasts.
"Glider operations in Canada are cooperating and leveraging resources at a national level, which is so far unprecedented," said Richard Davis, lead for joint-MEOPAR/OTN glider operations.
OTN, the Marine Environmental Observation Prediction and Response Network (MEOPAR), UBC, UVic, Oceans Networks Canada, and DFO are collaborating in support of the MEOPAR-led Whale Habitat and Listening Experiment (WHaLE). WHaLE uses MEOPAR/OTN gliders to listen for and collect location data on whales to better understand their populations, ecology and habitat-use patterns. The information can help establish protected areas for whales to help minimize harmful impacts from human activities.
"This project really crafts a number of science disciplines and emerging technology to open a window into the world of coastal and offshore whales that will support conservation planning that is vital for some of our most endangered species," said WHaLE project leader, Dave Duffus (UVic).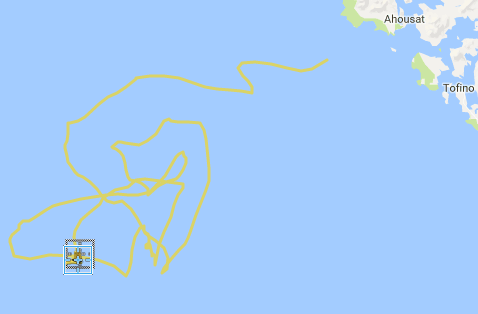 OTN, ONC/DFO, and UBC each supplied a Slocum electric glider for the mission. The gliders moved west, patrolling the waters in and around Clayquot Sound, west of Tofino.
"Although they were being pushed around by the same current, each glider diverged from its mission in its own way. This mission illustrates the strength of having three coordinated gliders because when one was pushed off course, another could take its place, leading to a great dataset in end," said WHaLE project co-leader, Tetjana Ross (DFO-IOS).
OTN's glider was equipped with a unique hydrophone, a DMON designed at Woods Hole Oceanographic Institution, which listens to the sounds of whales in the area. The glider also houses an Imagenex echosounder, SeaBird pumped CTD, Anderaa oxygen optode, Vemco VMT and Wildlife Computer ARGOS tag. All three gliders measured oceanographic variables within the whales' habitat to assist with ongoing conservation efforts by WHaLE.
The OTN/MEOPAR glider team departed from Halifax at the end of January. The gliders were on mission over a three-week period before the DFO-CCGS Tully picked up the gliders on February 18.
Stay updated on the WHaLE project via the Canada Wildlife Federation's blog: