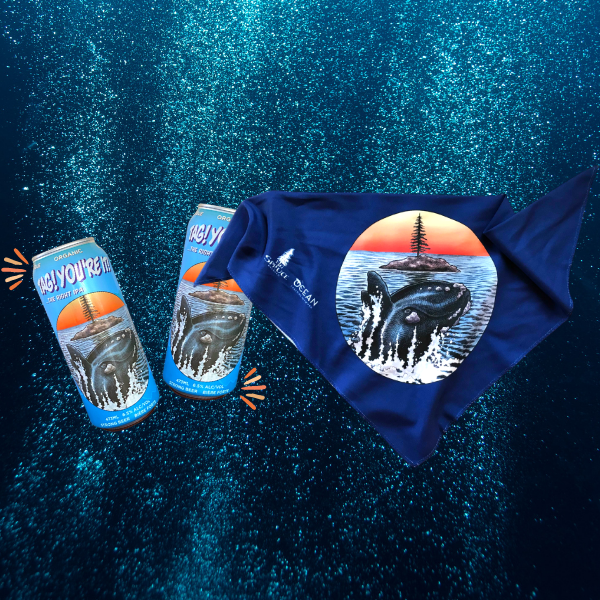 The North Atlantic right whale is one of the most endangered whales in the world—a new population study shows that right whale numbers continue to decline, with just 356 whales remaining.  
If we do not act now, we will lose this species. 
The Ocean Tracking Network and Big Spruce Brewing have teamed up to help. This year, 50 cents from every purchase of Tag! You're It! (TYI) supports Canadian organizations working to conserve the critically endangered North Atlantic right whale. 
In the spirit of the holiday season, all online orders of a six-pack of TYI will contain a North Atlantic right whale bandana.   
This limited-edition six-pack is perfect for gifting or sharing with the animal lover or conservationist on your list. And Canada-wide shipping means you can safely send it to friends and family, too! 
Here are 10 ways you can sport your support with the limited-edition TYI bandana:  
Wear it as a bandana (classic!)   
Style your pets   
Wear it as a headband   
Accessorize your bag or backpack   
Wear it as a wristband  
Keep your cans cool and make a koozie 
Wrap your gifts in it—it's reusable! 
Decorate your gift boxes  
Use it as a handkerchief  
Tie into a bow and use it a tree topper
Thanks to you, more than 50,000 cans of this "conservation in a can" have been sold across Canada since its launch on Earth Day 2020! Getting (or gifting) the TYI holiday pack will make a big difference for Canadian organizations working to protect this critically endangered species. 
Order a six-pack. Support NARW conservation. Get some limited-edition swag to show your support. Only available until December 31, 2020, or while supplies last. 
Visit shop.bigspruce.ca