Seven teams of students explored marine animal tracking and glider data from several different OTN Canadian and international tracking studies. The event, dubbed the OTN "Trackathon" mirrors a hackathon, whereby computer programmers collaborate intensively on software, apps, or visualization projects, often interfacing with graphic designers and commercial retailers.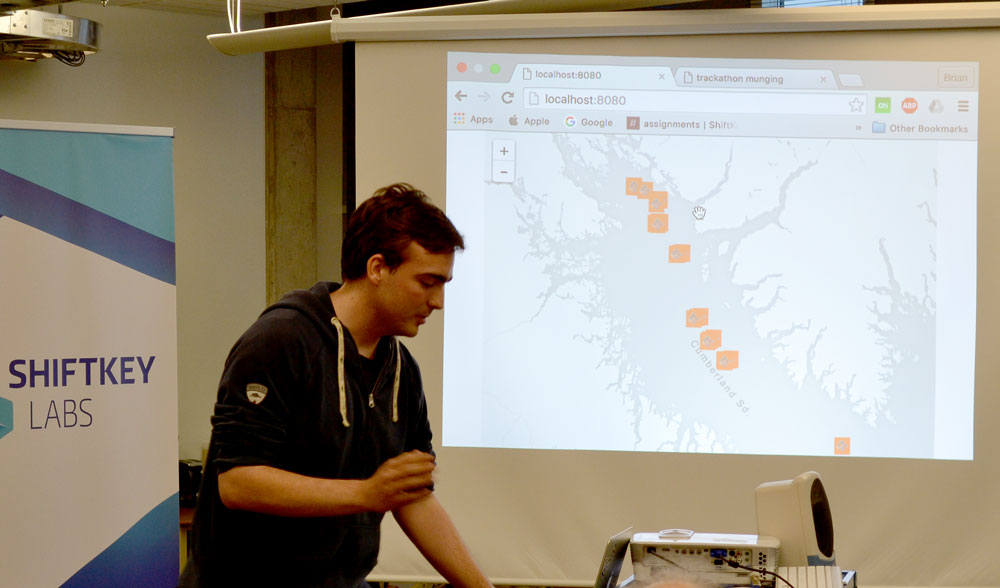 Undergraduate to PhD Computer Science, Informatics, and Statistics students spent their Saturday at ShiftKey Labs visualizing OTN animal movement data collected from acoustic and GPS tags, and OTN's global acoustic receiver infrastructure. Students used open-source software (GoogleEarth, Leaflet, Unity, and others) to design interactive maps based on the animal movement data.
Visualizations enable rapid and effective comprehension of complicated data sets, concepts and patterns, over years of study, and engage end-users to influence awareness and understanding.
Data sets included many of OTN's Arctic study species: Greenland shark, Greenland halibut, Arctic skate, and ringed seal. Sable Island grey seals, blue sharks, American eel (OTN Atlantic studies) and grey reef shark (Australia) were also available to explore and describe. Teams picked a mix of species to visualize and many outputs included multiple data sets and oceanographic information (temperature, depth) overlaid on animal tracks.

Stephen Perelgut and Stefania Kaczmyrczyk (IBM) hosted a workshop on IBM's BlueMix platform prior to the Trackathon. Both helped field technical questions during the event and judged visualizations at the end.
Esri Canada also provided resources and awards: James Boxall, director of the Dalhousie GIS Centre, judged the event and awarded the Esri Student Associate Position prize two PhD students for their use of Esri software to visualize grey seal movements on the Scotian Shelf.
Mike Smit, School of Information Management/MEOPAR (Dal), Fred Whoriskey, Jon Pye, and PhD student/OTN salmon biologist Xavier Bordeleau rounded out the judging panel that saw $2,000 awarded to the top three visualizations.
Thanks to Mike Smit and MEOPAR for generous contributions to the Trackathon prize pot, as well as Esri Canada for providing valuable student opportunities.
See photos from the Trackathon
Check out the Trackathon event page
Visualizations from the Trackathon are being compiled and will be uploaded shortly