This past week, OTN co-hosted activities in the province as part of Oceans Week HFX, a week-long festival that takes place in Halifax and surrounding communities, and is centered around the globally recognized World Oceans Day, June 8. More than 25 years since World Oceans Day was first recognized in Halifax, the event has evolved to become a multi-faceted, fun, educational, and empowering series that showcases Maritimers' love for oceans and bringing together a community of passionate environmentalists.

June 1 in Cheticamp, Cape Breton, kicked off OTN's participation in Oceans Week HFX and coincided with activities under International Year of the Salmon (IYS). Runners from across the province joined Parks Canada's inaugural "Salmon Run," a series of races along the Salmon Pool Trails in the Highlands National Park. Fly casting, fly tying, photo ops, and local craft beer tasting culminated in a thoughtful "taproom talk" on salmon conservation and featured OTN's conservation collaboration with Big Spruce, Tag! You're It! IPA.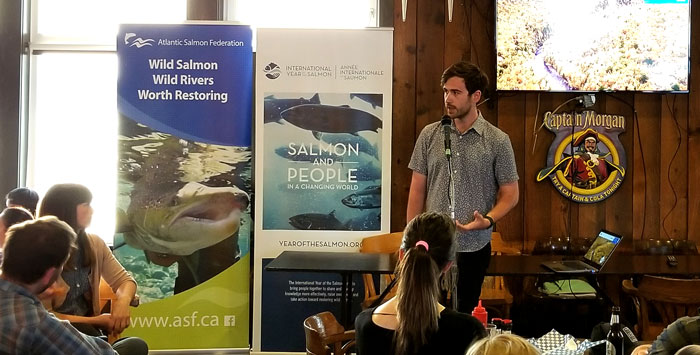 Read more on OTN and Big Spruce's conservation in a can.

A special screening of the Patagonia-produced film, Artifishal, explored the downfalls of ocean-pen fish farming, a trend toward mass production of commercial harvesting, which has been observed to have harmful environmental effects. More than 200 Haligonians showed up to talk with local research and conservation organizations, including OTN, about oceans, fish, policy, and local action taking place during IYS and Oceans Week HFX.

Submit a conservation organization to receive funds from this year's Tag!

The following sunny Saturday, on World Oceans Day, OTN co-hosted "Dive Against Debris" in partnership with Torpedo Rays Scuba Adventure. Around 20 divers met up in lower Prospect to clean up underwater debris around an active fishing wharf. Divers used mesh bags and the wharf's winches to lift garbage including a radio, a saw, antique children's shoe, and even a porcelain toilet.
Divers used bags and rubber gloves to collect, sort and relocate trash to the Torpedo Rays van, where it was hauled to a dump and recycling facilities. "It's nice to get out in full force with a bunch of people like this," said diver, Danny Munn, who tries to pick up trash every time he scuba dives. April Weickert, organizer and dive master for Torpedo Rays, spoke with CBC on the importance of ocean conservation.