From July 12-17, 2015, the Ocean Tracking Network hosted researchers for the 3rd International Conference on Fish Telemetry (ICFT). This year marked the 20th year since the first fish telemetry conference and was the 11th conference in the series, which began as the Conference on Fish Telemetry in Europe and expanded in 2011 to become an international event.
Over 250 researchers and students from 25 countries gathered in Halifax, Nova Scotia (headquarters of the Ocean Tracking Network) to present the latest in aquatic animal telemetry research from around the world. Presentations fell under traditional themes like behavioural ecology and large-scale movements, while emerging themes like new frontiers and conservation physiology yielded exciting talks around technological advancements in telemetry and management implications, respectively.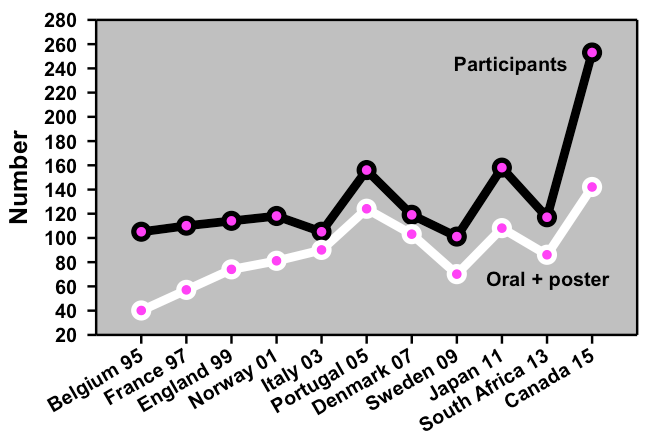 > 3rd ICFT summary presentation (E. Thorstad)
> Information on conference proceedings
> View available speaker presentations
> Photo gallery on Flickr
Psst!… Share your photos on Google Drive with oceantrackingnetwork@gmail.com, or email us!

WORKSHOPS & COLLABORATIONS

Several specialized workshops facilitated introductions to, or built on previous knowledge of, modelling and data analysis, acoustic telemetry design and application, and science communication.
Additional workshops formally brought together groups of researchers conducting telemetry studies—the nascent European Aquatic Animal Telemetry Network (EAATN) hosted its first meeting under the AtlantOS Horizon2020 project; Brazilian telemetrists united for the Tropical Fish Telemetry meeting—and new projects were formed including a French-led international collaborative tracking study in the Kerguelen Islands. An "OTN Futures Meeting" served to gain valuable insight from the broader aquatic telemetry community on possible avenues of global research and development for the next phase of OTN.

SPEAKERS & PRESENTATIONS

"There have not been more exciting times working with fish telemetry" – Chris Holbrook
Dr. Gilles Patry, President of the Canada Foundation for Innovation, made a special trip to Halifax to offer opening remarks on Canada's international ocean research commitments during the welcoming reception on Sunday evening. Similar welcoming remarks were given by Dalhousie VP Research, Martha Crago, and Ocean Tracking Network Directors, Fred Whoriskey and Sara Iverson.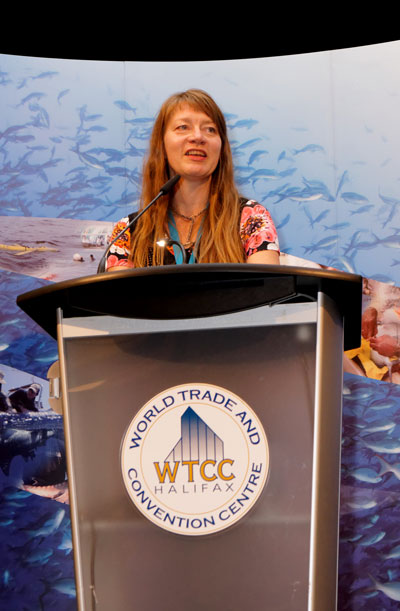 Four distinguished plenary speakers—Rory McAuley (Australia), Chris Holbrook (USA), Sara Iverson (Canada) and Francisco Chavez (USA)—each opened a different day of the conference speaking to different telemetry themes from both fresh and salt water.
Of 92 total oral presentations, over 50 percent focused on applied research with the majority falling into the behavioural ecology theme, followed closely by anthropogenic impacts.
Eva Thorstad (photo at right), chair of the ICFT International Steering Committee, closed the event on Friday afternoon with a conference summary presentation.
View 3rd ICFT summary presentation
View speaker presentations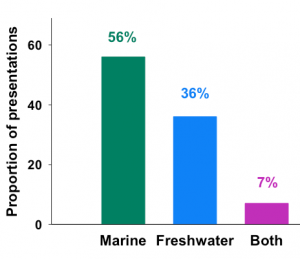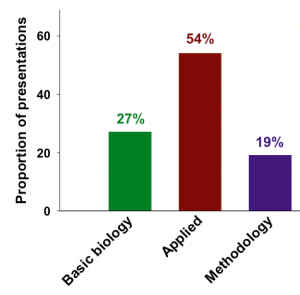 SOCIAL & NETWORKING
Nova Scotia's maritime and Celtic roots were apparent throughout the week. Monday evening's cèilidh and kitchen party on the Halifax Waterfront celebrated local flavour in both food and fun.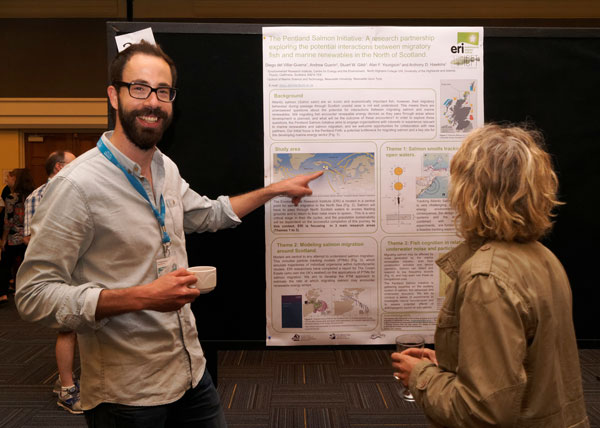 Two poster sessions facilitated great networking and interactivity among delegates—a student-only poster session held on Sunday before the opening reception offered students a chance to showcase their work to the broader delegation. A second poster session on Tuesday evening featured both student and non-student posters as well as a special networking event that paired senior scientists and students/early career researchers to offer mentorship, career and project advice, and swap stories.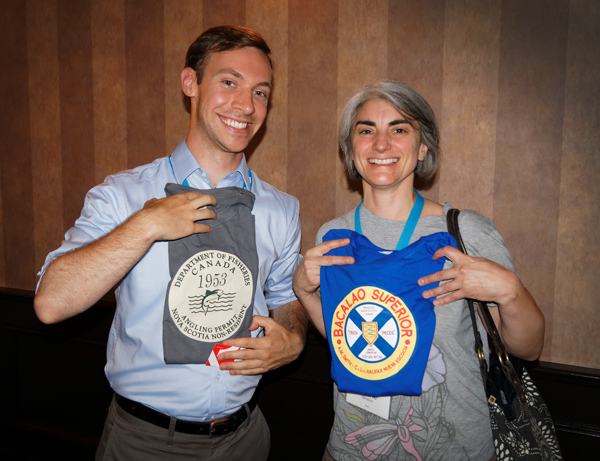 Local logo curators and garment producers, Lost Cod Clothing Co., collaborated with organizers to set up a pop-up shop at the conference venue, printing unique conference t-shirts featuring old Nova Scotia industry logos on the front and the ICFT and sponsor logos on the back.
Delegates took a break from talks on Wednesday to enjoy a day-trip and harbour cruise in Old Town Lunenburg, a historic colonial village and UNESCO Cultural World Heritage Site. The World Wildlife Fund hosted 'Shark Night' Wednesday evening. OTN research associate, Nigel Hussey, gave an informative public talk focused on Greenland sharks. The event included a 'shark cage trivia match' featuring three teams of shark researchers, many of whom were in town for the ICFT, pitted against each other in rounds of shark trivia.
The conference gala was held at Citadel Hill Fortress on Thursday evening amidst ceremonial bagpipers and highland dancers. Talks continued on Friday morning and concluded with afternoon workshops.

GOING FOWARD… TO CAIRNS!
Michelle Heupel and Colin Simpendorfer (James Cook University), and Jayson Semmens (University of Tasmania) were announced as hosts for the 4th ICFT in Cairns in 2017.
Email Michelle (m.heupel@aims.gov.au) with suggestions, questions, or if you are interested in sponsorship opportunities. 2017icft.org goes live soon!
Special thanks to our many sponsors whose support during the ICFT facilitated the great networking and social events and helped further collaborations in aquatic telemetry.