OCEARCH team tends to white shark during tagging
White Shark Research
The 2012 OCEARCH Shark Project is the largest collaborative shark study to ever take place in South Africa, involving more than 30 local and international scientists from 16 academic and research institutions. Two dedicated research expeditions took place between March and May 2012 to catch and tag white sharks in South African waters. In total, 42 white sharks ranging from 213 to 505 cm (representing both sexes) were captured and sampled, of which 39 were surgically implanted with Vemco transmitters with an expected battery life of 10 years. Most (36) were also tagged with SPOT satellite tags and 6 were tagged with PAT tags. Tagging took place at three OTN monitoring sites (Algoa Bay, Mossel Bay, and False Bay) and at De Hoop (Arniston) and Gansbaai. In addition, six raggedtooth sharks were tagged with 10-year life span coded transmitters and two were equipped with PAT tags in Algoa Bay. The OCEARCH research project also plans to tag sevengill sharks and Zambezi (bull) sharks. For more information about this project, visit the OCEARCH website.
Zambezi (Bull) Shark Research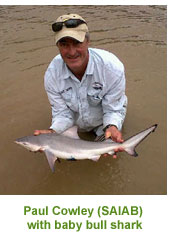 Port St Johns, on the southeast coast of South Africa, has been dubbed the "deadliest beach in the world" for shark attacks. Since January 2006, this coastal town has witnessed no less than six fatal shark attacks. In 2011, the Department of Environmental Affairs (DEA) approached researchers from the KwaZulu-Natal Sharks Board (KZNSB) to investigate interactions between sharks and humans at Port St Johns. An important part of this research is an acoustic telemetry study initiated in 2012 to investigate the movements and residency of large sharks in the area. Six receivers were moored in the marine environment, which was recently complemented by a line of five OTN receivers, and three adult Zambezi and one large white shark were tagged in the area. In addition, the KZNSB together with the South African Institute for Aquatic Biodiversity (SAIAB) placed four receivers in the Umzimvubu Estuary (Port St Johns) and tagged six early juvenile Zambezi sharks. This ongoing project plans to tag more juvenile and adult sharks this summer.
The Port St Johns' study is one of several investigating movements and behaviour of Zambezi sharks in southern Africa. Researchers from the South African Shark Conservancy (SASC) and the Department of Forestry and Fishery (DAFF) are investigating the interactions among sharks, fish (their prey), and fishermen in the Breede Estuary. Additionally, researchers from Rhodes University have tagged Zambezi sharks in southern Mozambique to investigate the trophic ecology of these top predators, as well as the interactions with recreational SCUBA divers in the area. The latter study will benefit by a deployment of five OTN receivers at the South Africa–Mozambique border, scheduled for November 2012.
Overexploited Fishery Species
Many South African coastal fishery species of commercial and/or recreational importance are considered to be overexploited — none more so than several species that use shallow estuarine habitats as nursery areas, such as dusky kob and white steenbras. Their dependence on estuaries during their juvenile years makes them extremely vulnerable to exploitation and hence localised depletion. Over the past decade, researchers and students from SAIAB with their collaborating partners from the Norwegian Institute for Nature Research (NIAN) have conducted acoustic telemetry studies on estuarine associated fishes, with emphasis on residency periods, space use patterns, movements in response to environmental conditions,  and the timing and periodicity of sea trips. Current research efforts are focused on the movements of adult individuals, to assess their long-term dependence on reduced salinity environments (estuaries), homing to "natal" estuaries, connectivity between the marine environment and multiple estuaries, and whether or not they undertake annual long shore spawning migrations. The Acoustic Tracking Array Platform (ATAP) managed by SAIAB, which includes the OTN receiver network and other privately owned arrays, will soon provide comprehensive coastal and estuarine coverage and an unprecedented opportunity to study the movements of these and other coastal species.
Read more about SAIAB on their website…
Story by Paul Cowley, SAIAB