On April 1, Canada's Minister of Science, The Honourable Kirsty Duncan, toured Dalhousie's ocean science initiatives along with MPs Andy Fillmore and Darren Fisher.
Duncan got an up-close look at some of the state-of-the-art facilities housed in the Steele Ocean Sciences Building and spoke with Dal faculty and graduate students about some of the major projects currently underway.
"I came here because I wanted to see the research that's going on here and to see what's possible for monitoring the ocean." the Minister said following the event.
Duncan's visit comes on the heels of  Treasury Board President Scott Brison's discussion of the federal Liberal government's first budget on March 23, which includes significant new investments and commitments for science and research at universities. Duncan further emphasized her government's commitment to research and innovation during her visit, calling the budget a "very exciting budget for science."
OTN scientific director, Sara Iverson, walked Duncan through marine animal tracking under the OTN Canada umbrella, which focuses on animals' habitat use and survival in relation to climate change. She emphasized how providing fisheries managers and others such data can help prevent things like the collapse of fish stocks as well as enhance their capacity to benefit sustainably from fisheries.
"Aquatic animals provide global food security and they generate billions of dollars annually . . . through benefits from fishing, tourism and other services" said Dr. Iverson, "and they're also culturally significant to many communities, First Nations and the public."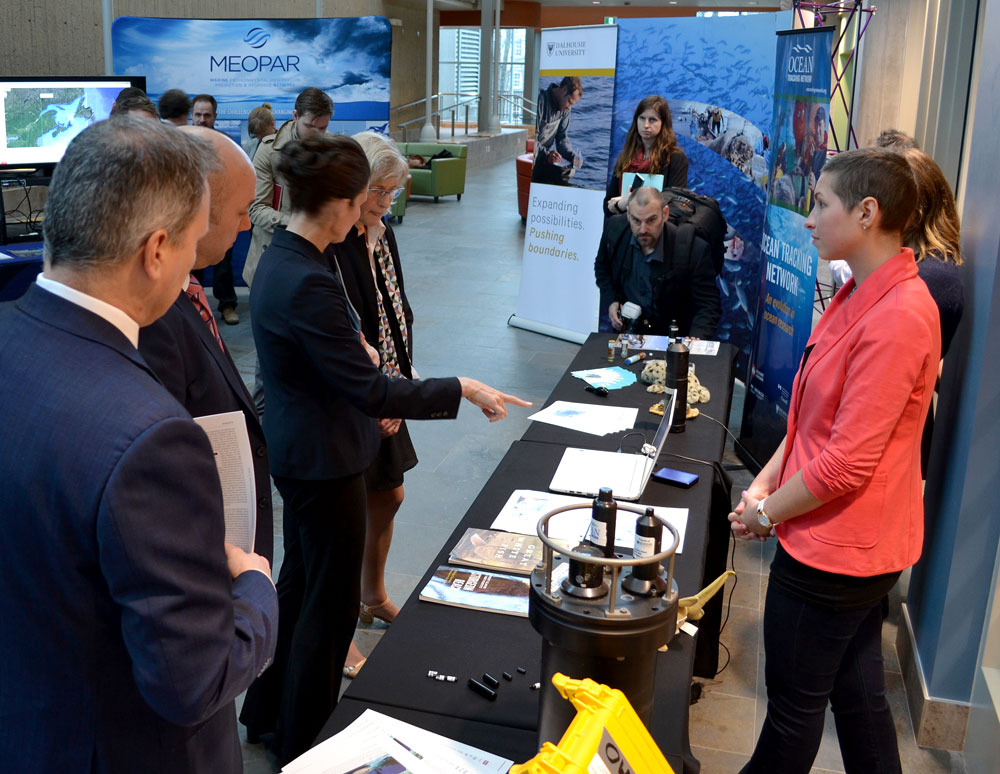 OTN students and post-docs, Montana McLean, Damian Lidgard, Bania Nowak, and Franziska Broell helped introduce the Minister to OTN tracking technology including specialized tags, described as "FitBit for animals," as well as tags helping investigate interactions of seals and fishes.
Duncan also spoke with OTN glider lead, Richard Davis, on the work OTN and MEOPAR gliders are performing on both the east coast and the west coast of Canada monitoring changes in ocean biogeochemistry, recording data from hurricanes, and most notably, tracking whale habitat and feeding grounds.
After checking out both OTN's Slocum and Wave Gliders, OTN technician Adam Comeau helped the Minister pilot a glider on the west coast glider through a series of computer commands.
"This is the most stressful thing I've done," the minister joked. "I'm blown away by what you're doing," she added. "The science is fascinating."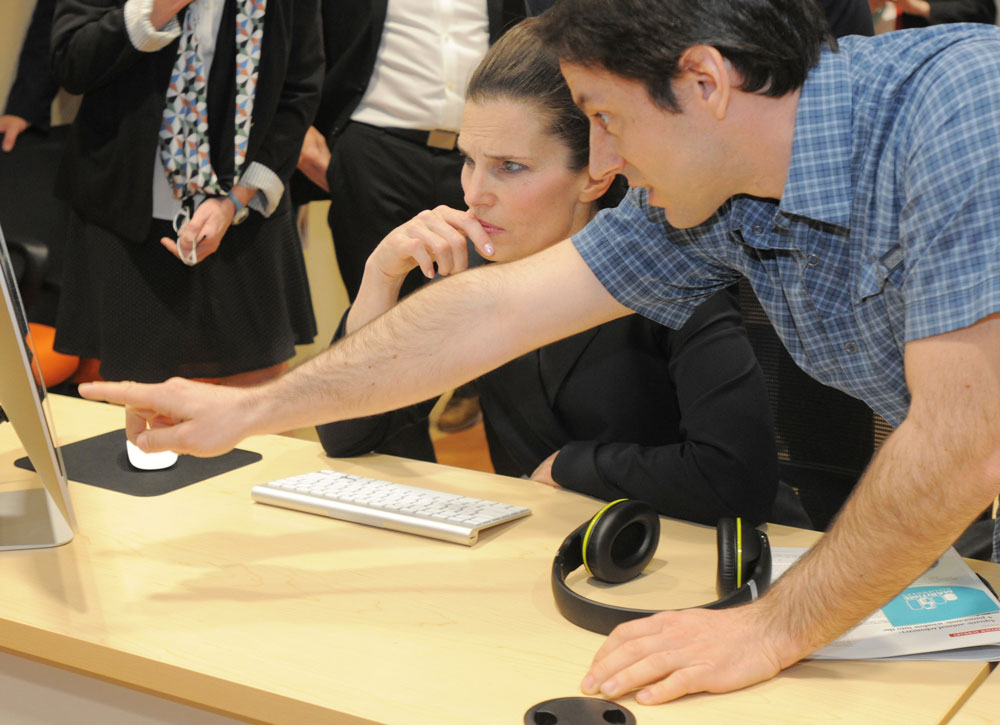 Duncan also visited with Dalhousie president, Richard Florizone, and Canada Excellence Research Chair in Ocean Science, Doug Wallace, touring of the Dalhousie CERC.Ocean lab and MEOPAR OceanViewer — a public, web-based tool to visualize ocean data.