An Ocean Tracking Network fish-tracking pod has made a cross-Atlantic journey from Canada to a small island off of northwestern Scotland.
The pod, part of a line of underwater tracking stations crossing the Strait of Belle Isle, which connects Newfoundland and Labrador, Canada, was recovered by Neil Nicholson shortly after the new year on the beaches of North Uist, Scotland.
OTN technicians were unable to recover the pod in October 2015 during routine maintenance of the line. The pod contains marine animal tracking and oceanographic monitoring equipment used to document the movements and survival of acoustically-tagged fish including Atlantic salmon, cod, and bluefin tuna.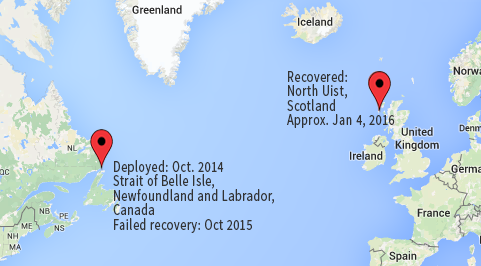 The Strait of Belle Isle represents an important migration corridor for several keystone species, particularly  Atlantic salmon. The line, comprise of 20 tracking stations and two pods, has detected species from seven independent tracking studies in Canada and the United States.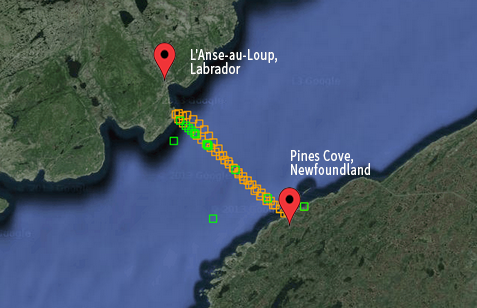 It's unclear when the pod broke free of its mooring. The Strait of Belle Isle is notorious for strong currents. This is the third time the pod located on the Labrador-side of the line has released unexpectedly—in 2013 and 2014 the same station was reported missing during rollover of the line; however, in 2014, the tracking component, a VR4 acoustic receiver, was recovered in Port aux Choix, western Newfoundland, and returned to OTN headquarters.
Some components of the pod suffered some damage during it's "migration" despite being in good shape overall. The tracking receiver, which also measures temperature, is operational. Technicians will attempt to plot a course track of the pod using the temperature data from the receiver and documented sea-surface temperature.
In a twist of fate, a proposed tracking study in Firth of Lorn, Scotland—approximately 200 kilometres (140 miles) southeast of North Uist—includes the loan of VR4 stations… and free shipping for at least one.