Wild salmon undertake incredible journeys compared to most marine and freshwater fishes. They use complex navigation cues, including their sense of smell and the Earth's magnetic field, to migrate thousands of kilometres from rivers, across oceans to nutrient-rich coastlines, and back to their native river habitat, all part of a life cycle that is becoming increasingly challenging as a result of climate change and human interference.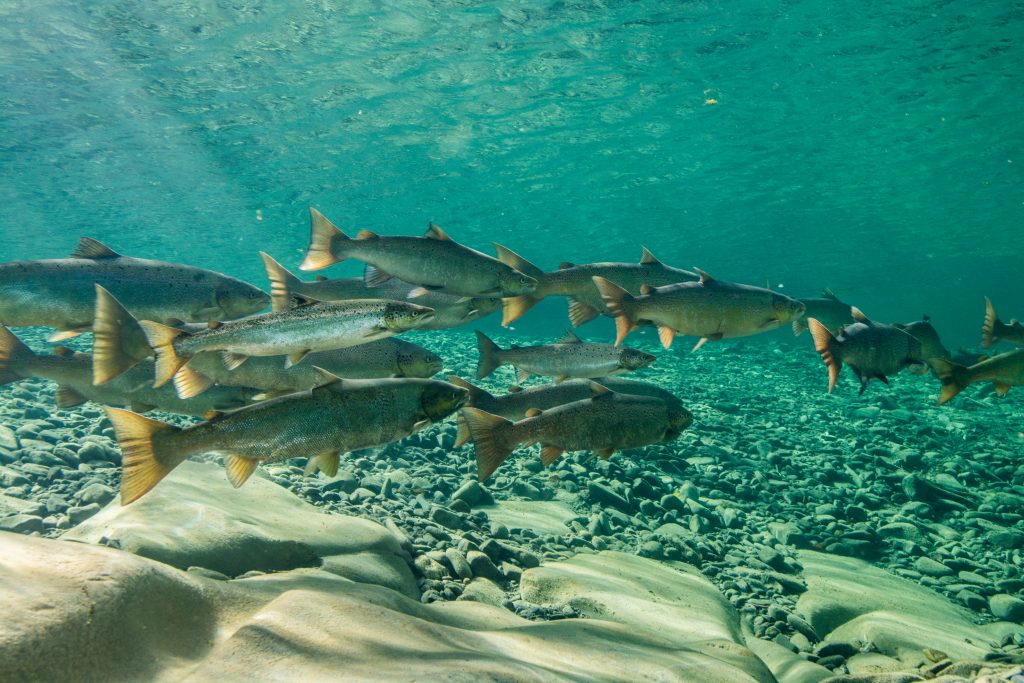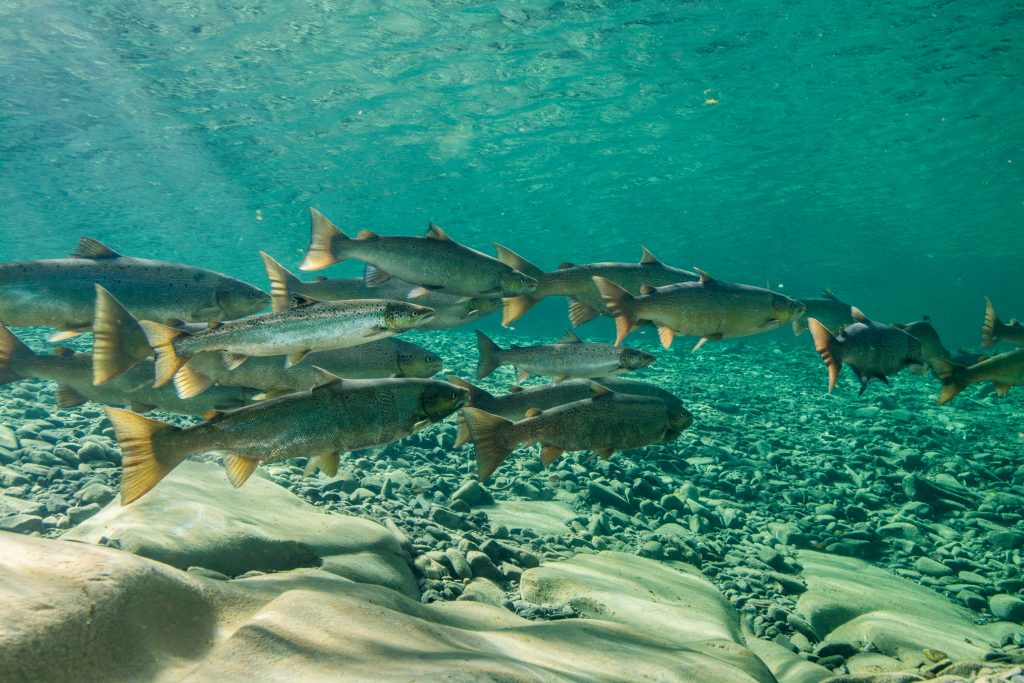 Estimated abundances of wild Atlantic salmon (also called 'sea salmon' and 'black salmon') in the Northwest Atlantic Ocean have declined by as much as 45% since the 1970s. Many river stocks are considered at risk of extinction due to damming (blocking salmon "highways"), logging (stirring up harmful sediment and debris), and rising temperatures, among other factors. The salmon landscape, or "salmonosphere," in North America has changed dramatically since the Industrial Revolution such that action now will be paramount for the future survival of these species.

Collaboration at the heart of conservation

Most conservation efforts have revolved around improving freshwater and coastline environments due to the relative accessibility of these areas by people, but salmon spend years of their lives dispersed across huge ocean ranges. Such large-scale movements make it almost impossible to determine the exact challenges salmon face at sea.

"It's essential that we cooperate nationally and internationally in research programs and conservation efforts if we are to afford and have the logistical ability to do the work needed to protect and enhance [wild sea-run salmon]," says Fred Whoriskey, Executive Director, OTN
No entity, country or group can single-handedly facilitate global salmon recovery, but an international community of researchers and inspired citizens is galvanizing to better understand underlying causes of mortality and develop strategies to sustainably manage and restore wild populations. International Year of the Salmon (IYS), formed by the North Atlantic Salmon Conservation Organization and the North Pacific Anadromous Fish Commission, aims to understand the challenges to salmon abundance and encourage scientists, decision-makers and the public to work towards solutions that overcome them.

Read more from IYS on achieving a vision for wild salmon
Salmon and people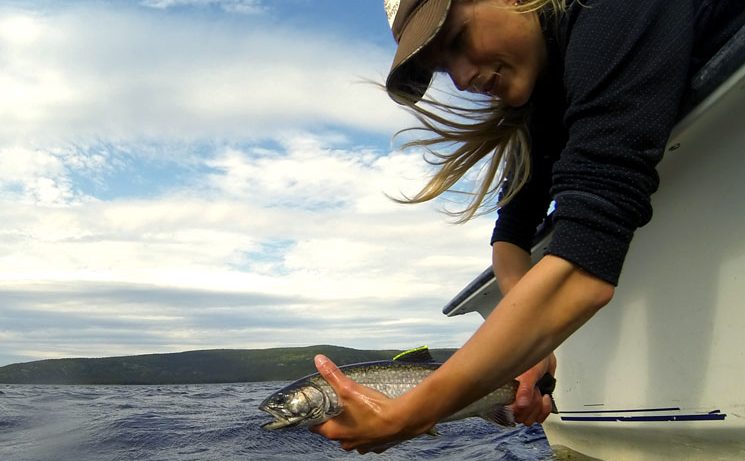 Salmon are a vital resource to people for food and economic prosperity, especially in Atlantic Canada. Ecologically, they push vast amounts of nutrients through freshwater systems as they move, providing nourishment to other fish, mammals, birds and even trees. They are iconic in almost every country in the northern hemisphere, inspiring profound connections to the Earth's forests, rivers, lakes and coasts, and shaping ecosystems and livelihoods along the way.
IYS provides a framework for unprecedented scientific and public collaboration that is as far-reaching as salmon migrations. It will generate new knowledge, tools and information systems, help train the next generation of scientists (not only in scientific methods, but in communicating important findings to the public), and build resilience for salmon populations by mobilizing citizen scientists.

Tracking salmon survival strategies

Researchers studying vast ecosystems and their inhabitants need a central platform to share data, connect with other experts and establish a community of practice.

OTN operates an internationally recognized data warehouse in which researchers' marine and freshwater tracking data is stored, shared (with permission) and quality controlled. In Atlantic Canada and eastern U.S., 33 projects are actively tracking or have picked up acoustic signals from Atlantic salmon tagged by OTN and its North American partners.

Between 2012 and 2016, more than 200 salmon were tracked in the Bras d'Or Lake, a unique inland sea in Cape Breton and a UNESCO Biosphere Reserve. Their tracks suggested a strategy that curbed mortality; about half of the tagged salmon, typically those in better health, tended to stay in the relative safety of the Lake rather than migrate to sea for food. Habitat use documented from this study can help inform management and development in the Bras d'Or Lake where individuals remain.

Learn how acoustic and satellite transmitters track aquatic animals
But science isn't the only avenue of conservation…

Scales and ales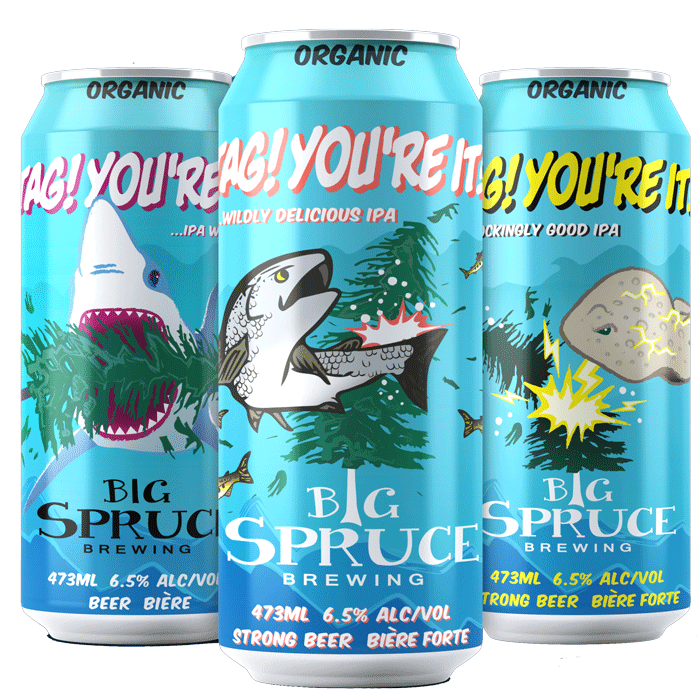 In 2017, OTN and Big Spruce Brewing formed a partnership (Tag! You're It! IPA) that, over three years, has raised awareness for local charismatic marine species and directed more than $25K in conservation financing to organizations in the Maritimes that promote ocean literacy, research and conservation action.
This year, Tag! You're It! focuses on wild Atlantic salmon awareness and research. Funds raised will be distributed amongst organizations working towards wild salmon and watershed education and restoration to be announced late summer.

Several events are being developed under the IYS-Atlantic banner in partnership with Big Spruce and Cape Breton Highlands National Park. Guided hikes, telemetry demonstrations and monthly "taproom talks" in Halifax, Fundy region and Cape Breton invite the public to familiarize themselves with salmon narratives from local experts and knowledge holders.

Find an IYS event in your area

Events celebrate wild salmon and provide a direct interface to anglers, traditional knowledge holders, researchers and naturalists to explore human connections to salmon. Most importantly, OTN aims to cultivate an appreciation for wild salmon and the watersheds that will shape communities to come.
Visit the OTN Facebook page for information on Events part of IYS and Oceans Week Halifax in 2019.
---