The Halifax Line, OTN's first acoustic receiver line, just became our longest line, with extension out to 166 receiver stations.
OTN technical team members Duncan Bates and Ian Beveridge, accompanied by DFO Bedford Institute of Oceanography collaborator Jason Burtch, took advantage of the unseasonably nice weather and spent two days aboard the Dominion Victory deploying 51 new receiver stations on March 20th and 21st.
Last month, the deployment team began the final phase of the Halifax Line by adding 43 new stations to the existing 72. The Halifax Line now extends a straight line distance of 111 km offshore from its point of origin off Chebucto Head, south of Halifax, surpassing OTN's Cabot Strait Line, which was completed in October of 2011, with a straight line distance of just over 100 km. In fact, the total length of the Halifax Line is now 132 km, turning southwestward at about its midpoint to avoid heavy fishing areas near Emerald Bank.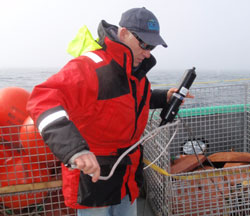 OTN technician Ian Beveridge prepares VR2W acoustic receiver for deployment
The Halifax Line consists of a mix of Vemco VR3, VR4, and VR2W acoustic receivers moored on EdgeTech/ORE Offshore acoustic releases. Five of the VR4 stations are also coupled with an oceanographic observing system known as the Satlantic benthic pod, which collects data on temperature, depth, salinity, and dissolved oxygen.
Completion of the Halifax Line is scheduled to occur before the end of May, 2012. The final version will consist of 256 acoustic receiver stations and 10 benthic pods and will extend a straight line distance of approximately 184 kilometres to the edge of the continental shelf.
This lastest deployment mission also completed the winter data offload of the 72 existing receiver stations. Although data are still being processed from this offload, detections of five different species from nine different tagging projects have already been recorded on the Halifax Line.
OTN logged its first fish detection on the Halifax Line in June of 2008, just a couple months after the first receiver was deployed. That fish was an Atlantic salmon tagged by NOAA Fisheries in the Penobscot River, Maine (read NOAA news item from 2008). NOAA Fisheries continue to be active OTN collaborators. Preliminary analyses after the 2011 summer data offload of the Halifax Line suggest that 5.5% of NOAA Fisheries salmon tag releases were detected on the Halifax Line in 2010 and 16.7% were detected in 2011. Numbers detected in 2011 are comparable with those from 2008, when 13.4% of fish released by NOAA Fisheries in the Penobscot River were detected on the Halifax Line.
The summer data offload also brought encouraging results with VR4 communications. During those missions, OTN technician Duncan Bates was able to offload data from three or four stations (each separated by about 800 m) simultaneously without having to reposition the boat. As OTN's test bed for new technology, the Halifax Line continues to be productive… in a related story, data from VR4s were successfully offloaded last fall using an unmanned maritime vehicle known as the wave glider.
View photos from recent activity on the Halifax Line in the OTN Multimedia Gallery