The first results of an OTN-supported international project tracking the movements of snook and tarpon in the Florida Everglades have been finalised and presented at a regional Everglades restoration meeting on April 20, 2017 (see poster below). Using OTN receivers for Florida International University's Coastal Everglades Lakes Acoustic Array (CELA2), Principal Investigator, Dr. Jennifer Rehage is studying fish movements in the context of increased salinity in Florida Bay and the subsequent die-off of seagrass beds.
Dr. Rehage's research demonstrates the distribution of snook and tarpon across two lake systems that vary in nutrient status (one enriched/one unenriched). Data was collected between June 2016 and March 2017 and suggests very limited movement of both species between lake systems, with snook and tarpon primarily remaining upstream where salinity is lower.
According to the National Marine Fisheries Service, 2016 report, the saltwater recreational fishing industry in Florida is estimated to value $7.6 billion, supporting close to 109, 300 jobs. Determining best management practices for snook and tarpon within this industry is important, as these two species are some of the most targeted recreational fish species in the state.
Researchers in the Everglades have been demanding the inputs of freshwater be returned to something resembling historical, pre-drainage conditions. As the effort to do so continues, uncertainties on how these and other environmental changes will affect current fish communities remain. Ultimately, researchers like Dr. Rehage seek to develop a predictive framework for the effects of hydrological variation, restoration, and climate change on these and other large recreational fish species.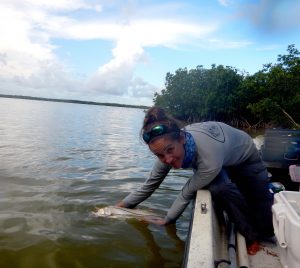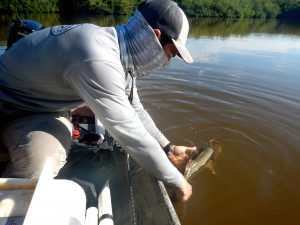 Dr. Rehage's work is featured on Saltwater TV in an episode highlighting the future of fishing in Islamorada. To view the episode click here: http://www.saltwater.tv/trending/battle-of-florida-bay. Skip ahead to 17:45 to learn more about Jennifer's research