(Nov 12, 2015) The Exxon Valdez Oil Spill Trustee Council approved funding to expand the OTN arrays in Prince William Sound, Alaska. The expansion is part of a proposal to study movement direction of Pacific herring beginning with the new deployments in early 2017.
Herring is an important source of energy transfer from lower food web levels (phytoplankton and zooplankton) to higher levels, such as birds, fish, whales and sea lions. Herring once supported a lucrative commercial fishery until species numbers declined dramatically in the early nineties. Researchers are working to discover why herring populations have remained low. (PWS Science Center)
Adult Pacific herring in Prince William Sound disperse after spawning, but their movements are poorly understood. Observations from fishers suggest that they migrate out of the Sound and onto the shelf. The study passively monitors PWS herring to document post-spawning related movements and timing.
The array currently consists of 34 receivers at sites along the Alaskan coast: Hinchinbrook Island (16 VR4 acoustic receivers), Montague Island (11 VR4 receivers), and passages between several adjacent islands (7 VR4 receivers). The partial, second array will be deployed below, and at the east and west ends of the array (see figure 1 and 2) based on a higher concentration of herring detections at the outermost receivers.
The array has captured data from five different research projects tracking green sturgeon, Pacific cod, Pacific herring, and salmon shark.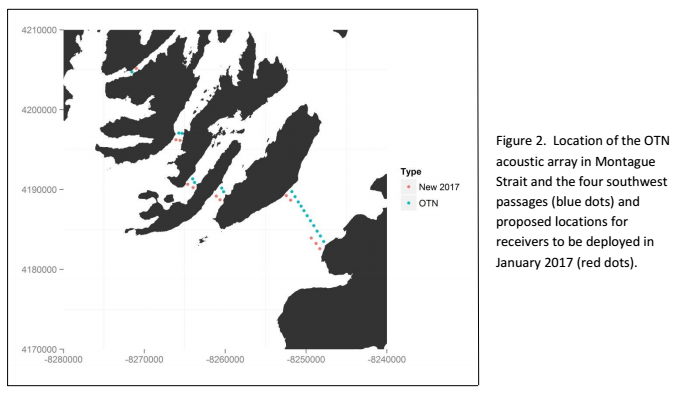 Figures courtesy of Mary Anne Bishop, Prince William Sound Science Center