Adam Comeau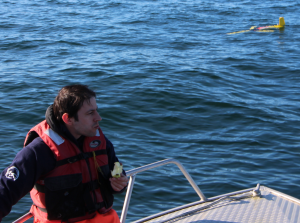 Adam Comeau works as part of the OTN/MEOPAR glider team. Holding a Masters in Biological Oceanography from Dalhousie University, Adam has been assisting with the maintenance and operation of ocean gliders, such as Slocum Gliders and Wave Gliders for over 6 years.
Throughout his time working with OTN Adam has been the lead technician on more than 60 missions on the east and west coasts of Canada. He's also helped researchers from across Canada set up new gliders and perform test missions.
Adam's day-to-day duties involve data analysis with Matlab / Python / MySQL, field deployments, instrument maintenance, sensor calibration, small boat operations, mission planning and troubleshooting. Additionally, he also gives educational tours to the general public and scout groups. Adam has visited elementary, middle and senior school classes to speak about ocean science and autonomous underwater vehicles.