Sue L'Orsa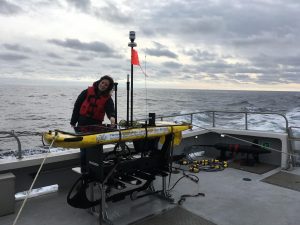 Sue L'Orsa has been a Glider Technician with the OTN/MEOPAR glider group at Dalhousie University since 2014.
During her early technician days, Sue split her time as a Data Manager for a plankton lab at Dalhousie University. Since then, she has been the lead technician on nine Wave Glider missions, and assistant technician on 10+ Slocum glider missions. Most of her duties involve mission planning, glider maintenance, and field operations, but she has also recruited and trained students to pilot the Wave Glider.
Prior to moving to Halifax and discovering the joy of gliders, Sue spent time working in the mining industry and at a veterinary clinic in Smithers, B.C., as well as on a dairy farm in St. John's, Newfoundland. She received her B.Sc in General Science with specializations in Life Science and Earth Science from the University of British Columbia.