Lenore Bajona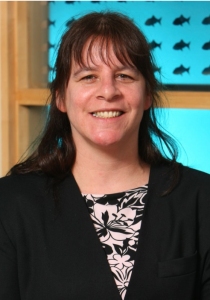 Lenore Bajona joined OTN in June 2010, and is now the Director of International Data Systems.
Lenore's experiences with DFO while Dalhousie, Science COOP student (1991 – 95) led to her joining DFO at Bedford Institute of Oceanography in November 1995. In DFO Lenore was an Informatics Analyst since 1996, providing computer programming and system analyses for various departments within the Science and Corporate Services Branches. DFO assignments have included working on Ocean Biodiversity Informatics (Co-chair, Ocean Biodiversity Informatics Conference (OBI'07), held at BIO, Oct. 2 – 4, 2007 (
http://www.marinebiodiversity.ca/OBI07
), providing technical and information management support for OBIS Canada and Centre for Marine Biodiversity, including Taxonomic Standardization and Enrichment (Kennedy, Mary and Lenore Bajona. 2009. A data manager's guide to marine taxonomic code lists. Can. Tech. Rep. Fish. Aquat. Sci. 2827: iii + 23 p.).