This month, OTN hosted an 'Introduction to R' workshop at SURGE (Science Unleashed: Research Growing the Economy), an innovative "sandbox" at Dalhousie University. The workshop, led by Memorial PhD candidate Danielle Quinn alongside OTN's Solutions Engineer Alex Nunes, was part of a new collaborative research project that partners with Mi'kmaw rights holders, local knowledge holders, universities and the Department of Fisheries and Oceans (DFO).
The data analysis workshop aimed to help participants, including students, researchers, and staff from supporting organizations, become more comfortable with RStudio, an interface for processing data sets including modelling OTN's animal movements.
The workshop was beneficial for beginner and experienced coders alike. After introducing basic R vocabulary, Quinn covered conditional operators, functions, data classes, vectors, indexing, data frames, and packages.
OTN, Mi'kmaw and local community partners embark on collaborative resource management
"It's easier to learn best practices than break bad habits later." Most importantly, Quinn provided tips and tricks to keep data clean and organized, something most beginners struggle with at first.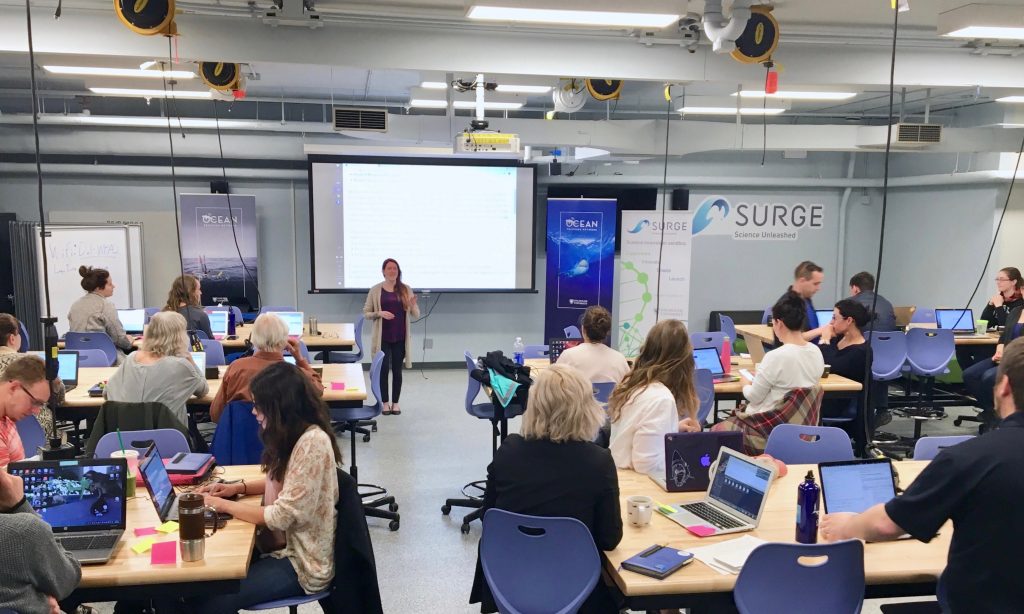 At the end of the workshop, students put their skills to the test and replicated an example plot of human population statistics Quinn had made using one of the data packages.
Special emphasis on training during this 3-year project will see several more workshops aim to cross-train students, field technicians and researchers in tagging, telemetry field methods, data analysis and visualization as well as traditional and local knowledge systems related to the movements and ecology of American eel, Atlantic lobster and Atlantic tomcod.