The first-ever Clear Seas Symposium was held in Halifax, N.S., at the Atlantic School of Theology from April 12-14, 2017. Hosted by the Canadian Centre for Ethics in Public Affairs and Dalhousie University, this event included perspectives and talks from social and natural scientists, representatives of First Nations councils and communities, members of local fishing associations, government, and other practitioners. Attendees discussed opportunities and challenges in oceans governance and management under a theme of "ocean transparency" and its relation to the dissemination of data and research to the public.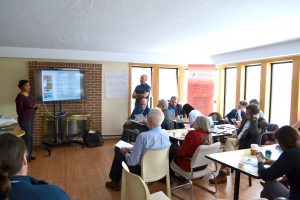 Megan Bailey, assistant professor with Dalhousie University's Marine Affairs Program organized the event alongside OTN's network program officer, Amy Ryan-Hill.
The three-day meeting, focused on promoting knowledge exchange among natural and social scientists, local fishermen and First Nations communities and how to use this knowledge to effectively and collaboratively undertake oceans management. Participants shared and synthesized information about their area of specialization to help inform and create solutions to common problems.
Presentation topics ranged from the social and economic importance of conserving Canada's marine wildlife, to deep-sea fishing monitoring through technologies like satellite Automatic Information systems (sAIS) and the Global Fishing Watch platform, to the role that data management has in an increasingly "transparent" ocean.
Speaking to the needs of small-scale harvesters, local fishermen, Darren Porter talked about his expertise in weir fishing near Windsor, N.S. Darren's talk drew attention to the need for scientists to work collaboratively with small-scale fisheries and understand resource observation and management from a first-hand perspective.
Closing off the second day of presentations, Member of Parliament for Halifax, Andy Fillmore and Member of Parliament for South Shore-St. Margaret's, Bernadette Jordan joined practitioners alongside Ken Paul of the Atlantic Policy Congress of First Nations Chiefs for an important discussion on First Nations frameworks in ocean governance, scientific and traditional knowledge integration and the need to merge perspectives for better oceans governance.
The conference's third day was dedicated to carving out possible solutions and best practices to address identified problem areas in ocean data and transparency. A summary report on the meeting will become available at a later date.
There is interest in a follow-up meeting which may take place in the future. To view presentation files click here. For more information on the Symposium and its outcomes, please reach out to Megan at Megan.Bailey@Dal.ca