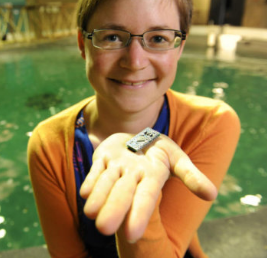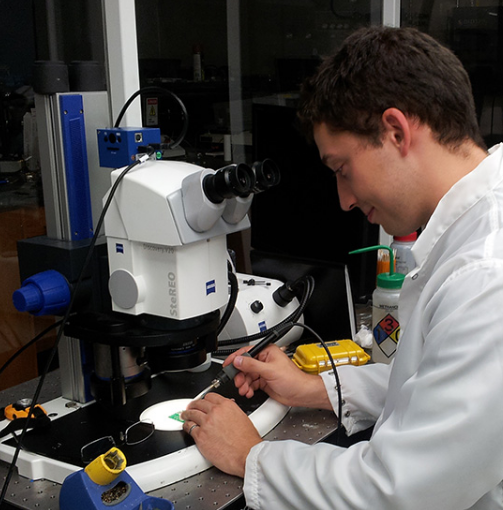 In November, the Canada Foundation for Innovation launched a series of exposés celebrating 20 years of science innovation in Canada. 'Research builds my communities'  profiles Canadian researchers who have made significant contributions to Canadian science and innovation under CFI support.
OTN post-doctoral fellow at Dalhousie University, Franziska Broell, co-founded Maritime BioLoggers, a Halifax-based company, which develops marine wildlife sensors that record fine-scale body movements.
"We were interested in those really, really fast movements of the animals, but there is no technology that can measure it."
Accelerometer tags ("a fitbit for animals") are a type of bio-logger tag that tracks motor movements like tail beat in fish and that serve to indicate things like growth rate, foraging behaviour, and escape events. The high-definition tags are providing new perspectives into the behaviours of grey seals, Atlantic cod, Atlantic sturgeon, and have spurred international collaborations to measure vulnerability of threatened species.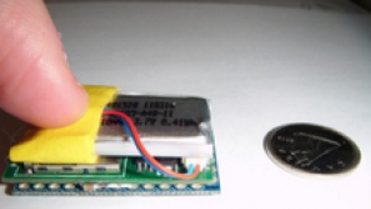 Fran and Maritime Biologger co-founder, Dalhousie PhD candidate Andre Bezanson, began developing cheaper, smaller, and open source accelerometer tags as part of Fran's PhD work under OTN. The mini-computer chip is externally attached to fish or other marine animals and can record 500 micro-movements in one second.
A collaboration with the OTN grey seal group is documenting seals' feeding habits and frequency: an accelerometer tag placed externally under the seals' lower jaw is recording biting and chewing behaviour. The timing of predation events is helping to determine the composition of seals' diets by recording jaw movements in relation to detections of other tagged animals the seal encounters via another unit the seal carries capable of detection other tagged animals the seal encounters at sea.
Information from these novel tags has implications for fisheries managers tracking growth rates of fish in the wild. The tags have evolved into a smaller circuit and require less power.
Further reading:
CFI is OTN's principal funding agency under which the global tracking infrastructure and personnel are supported.