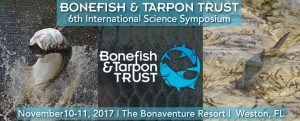 Symposium Overview:
Don't miss the greatest gathering of flats fishing we can fit under one roof!
Sixth International Bonefish & Tarpon Symposium
November 10-11, 2017
The Bonefish & Tarpon Trust 6th International Science Symposium takes place November 10—11, 2017, at the Bonaventure Resort and Spa, in Weston, Florida. Register today and make plans to join other anglers, guides, conservationists, fishing industry leaders, and scientists for what promises to be the most comprehensive flats fishing event in the world.
The global leader in bonefish, tarpon and permit conservation, BTT has once again assembled the top scientists in the world of flats ecology to share their research findings on why fish do what they do—and how that knowledge benefits the species, their habitats and the larger fisheries they support. Featured scientific presentations will spotlight BTT's ongoing science and conservation programs in the Florida Keys, Bahamas, and elsewhere across the Caribbean Basin, including recently completed studies on bonefish and tarpon genetics, the role of ocean currents in juvenile bonefish recruitment, a landmark effort to spawn and raise bonefish in captivity, and the role of water quality in ensuring healthy habitats.
In addition to learning more about science-based approaches to conservation, Symposium participants will enjoy time with the legends of our sport—top anglers and guides who will be on hand to share their time-tested techniques for catching the iconic gamefish of the flats. Fishing and casting clinics (fly and spin) will be taught by some of the world's top anglers, including Andy Mill, Chico Fernandez, and C.A. Richardson, while other legends will join lively panel discussions. The 2017 Symposium also includes Fly tying and photography clinics, an Art & Film Festival, and a Flats Expo that runs concurrently with other activities, providing opportunities to learn more about fishing and travel-related products and services offered by industry leaders.
The Symposium concludes on Saturday evening with a banquet honoring conservation leaders, as well as silent and live auctions. Offerings will include bucket-list destination trips, fine art, top-of-the-line spin and fly-fishing gear, and a special 20th Anniversary trip to fish and conduct research with BTT-affiliated scientists.
Evening Activities
Flats Expo: Friday and Saturday
Film and Art Festival:  Friday
Silent Auction and Banquet – Saturday
Planned Sessions:
Andy Mill Tarpon Clinic
Photography Clinic with Pat Ford
Adventure Travel Panel
Light Tackle Techniques for the Flats Clinic with C.A. Richardson
SUP Fishing Clinic
Fly Tying Clinics
Fix Our Water Discussion Panel
Bonefish Expert Discussion Panel
Tarpon Expert Discussion Panel
Permit Expert Discussion Panel
International Expert Discussion Panel
Angling Legends Panel
Art & Film Festival (Friday Evening)
Bonefish Science Session
Permit Science Session
Tarpon Science Session
Bahamas Initiative
Keys Initiative
And More…
Register here