Agenda
A detailed agenda including location information can be found here.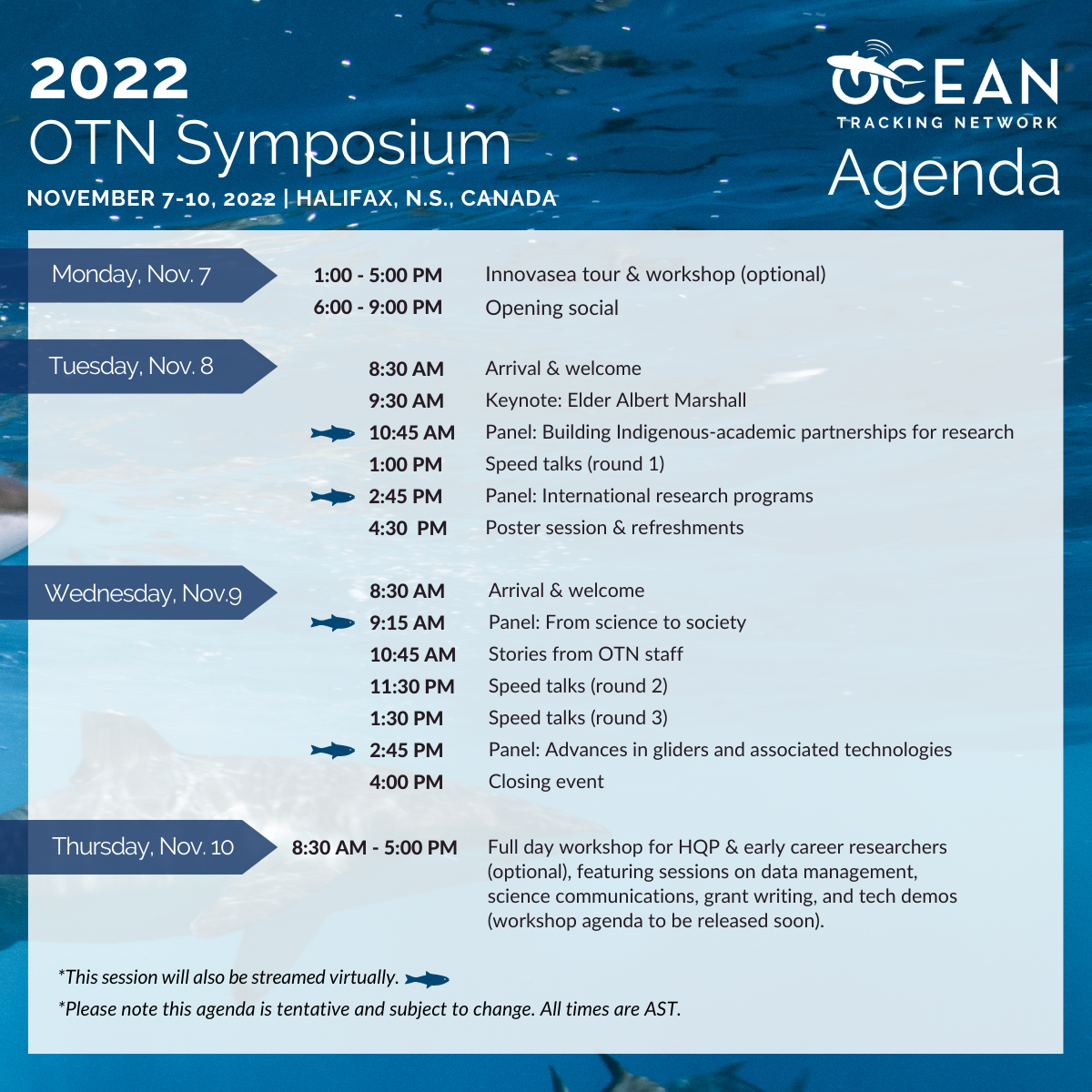 Location
The Symposium will take place on Dalhousie University's Studley Campus, with select sessions taking place at other locations in Halifax. A campus map is accessible here. For more information on each of the locations, see below: 
– Compass Room, Casino Nova Scotia, 1983 Upper Water Street
– Marion McCain Building, Dalhousie University, 6135 University Avenue
– Steele Ocean Sciences Building, 1355 Oxford Street
– Dalhousie Student Union Building, 6136 University Avenue
Innovasea acoustic telemetry workshop & facilities tour
Before the Symposium kicks off, join Innovasea for a tour of their facility and a half-day workshop on how to effectively use acoustic telemetry technology to understand aquatic animal behaviour.
Along with describing how acoustic telemetry works, Innovasea experts will guide you through the basics of study design, range testing and using Fathom software for data analysis and visualization.
Innovasea will also provide an update on the latest fish tracking technologies, including products under development as part of Canada's Ocean Supercluster initiative, innovations in acoustic tags for small ocean-going animals, and a sneak peek at the future of acoustic telemetry.
Monday, November 7, 1:00 pm- 5:00 pm
Transportation to and from Innovasea will be provided.
Pick-up at The Westin Hotel at 12:15 pm
Drop off at the Casino for the opening social at 6:00 pm 
You must register directly with Innovasea to join this workshop and tour. Please contact Nancy to RSVP: nancy.edwards@innovasea.com
Early career researchers (ECR) workshop
Thursday, November 10th, 8:30 am – 5 pm.
The ECR workshop is an optional day for researchers to help increase the overall level of understanding and confidence within labs and research facilities in order to streamline research, data sharing and outcomes.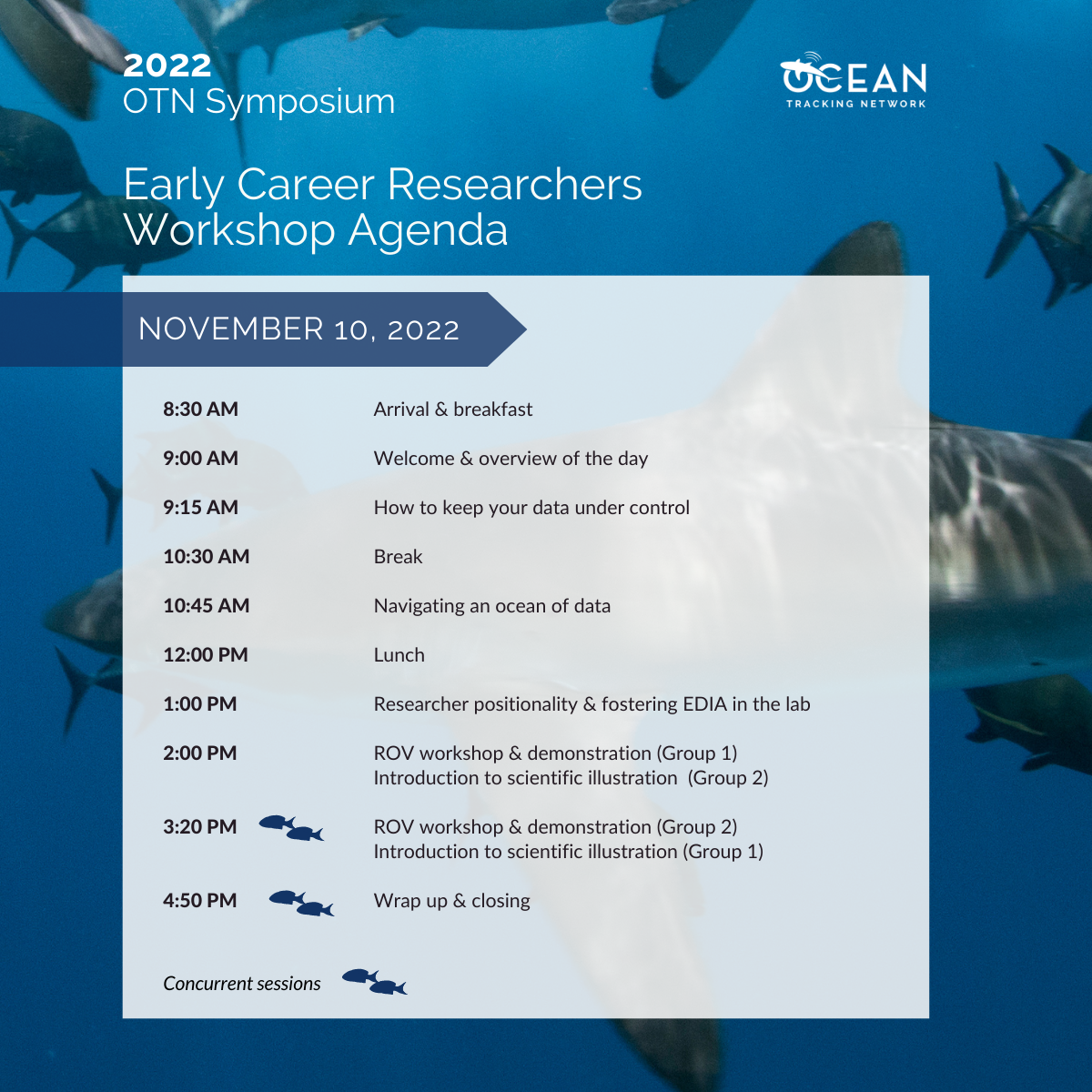 Registration
Registration to attend the Symposium in-person is now closed.
Did you know you can also register to attend the Symposium virtually? Select sessions will be streamed via Zoom Events. The deadline to register to attend the Symposium virtually is October 31, 2022.
Register to attend the Symposium virtually.
Invitation for abstracts
The deadline to submit an abstract has closed.
Please note that we are not accepting abstracts for virtual presentations at this time, as speed talks and poster presentations will only be in person.
Travel bursaries
The deadline to apply for a travel bursary has closed.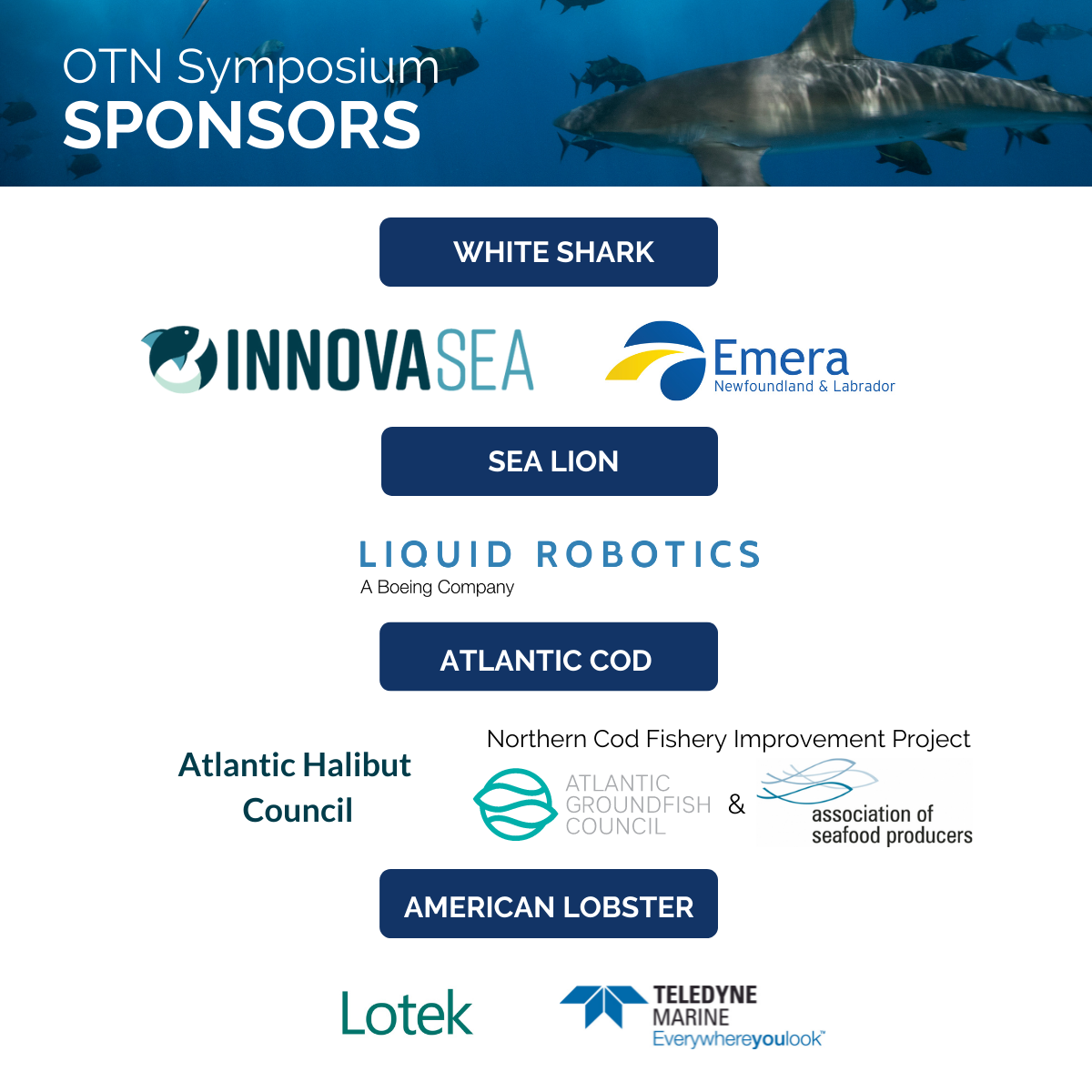 Sponsorship
The OTN Symposium is an important forum for bringing together telemetry researchers from across the world. Through the sponsorship of this event, your organization has an opportunity to position itself as a global leader in the fields of ocean research, technology and conservation among a network of scientists, communities, government and industry representatives.
For more information on sponsorship opportunities, please contact Jessica at: jessica.bradford@dal.ca.
Monitor your inbox*, check this webpage and follow OTN on social media for regular updates related to the Symposium.
*Please check your junk/promotional folders regularly and add otn@dal.ca to your contacts to ensure you receive OTN updates!
If you have any questions about the Symposium, please do not hesitate to reach out to Jessica at: jessica.bradford@dal.ca