Programme and events
Icebreaker – Monday, October 16
The Lord Nelson Hotel – Victoria Suite
1515 South Park St
If you arrive in Halifax on Monday, please join us for a drink and hors d'oeuvres at The Lord Nelson Hotel beginning at 6 p.m. Drop in when you can and stay as long as you wish. No registration is required, but this is a chance to pick up a programme and a special surprise!
Presentation and workshops
Tuesday & Wednesday, October 17 & 18
The Great Hall, Dalhousie University
1 Alumni Crescent
(Same location as in past years)
Tuesday (October 17) will consist of a full day of presentations. Wednesday (October 18) will consist of presentations and workshops. These events will take place in the Great Hall, the same venue as past symposia.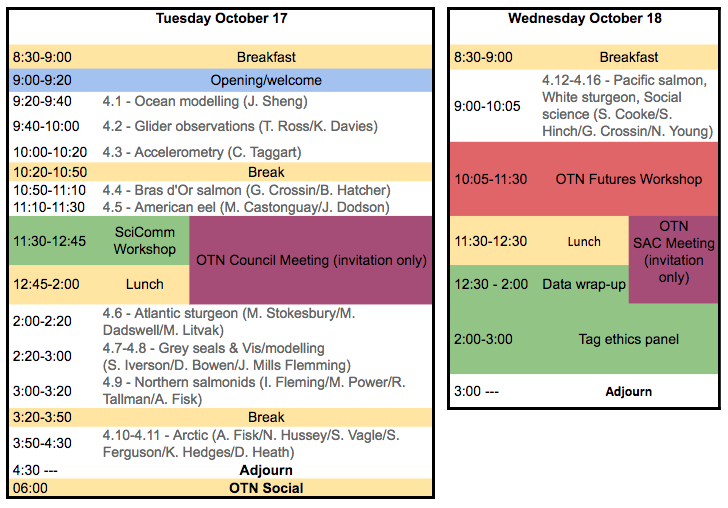 ---
Presentation format
No abstract is required. 
PPT presentation format is required.

PIs and HQP will more or less present together as they decide is best. It's up to your lab/group to decide who is saying what under the below format guide and please cover the duration of the project.  
Within your given time allotment*, please leave time for questions/discussion: we recommend ~3-5 mins for 20-min slots and ~7-10+ mins for 40-60-min slots.
PIs:  
We would like PIs to present a brief overall project intro, how/why it was originally envisioned, what the research has meant for OTN, and what the future holds for this research (e.g., whether the projects are continuing and what efforts have been made to raise funding) – this last item might best come at the very end of the HQP part of the presentation
HQP in attendance: 
The other portion of the presentation time could be specific recaps (brief, as necessary) by HQP of their work in the project (covering the entire duration of the HQP's project
*
Projects 4.1, 4.2, 4.3, 4.4, 4.5, 4.6, 4.9 = 20-minute time slots (some duration only 4 years, some the entire 8 years);
Projects 4.7 & 4.8 (Bioprobe/Data Visualization presenting as combined) and 4.10 & 4.11 (Arctic presenting as combined) = 40-minute time slots (mostly, 8 years)
Projects 4.12-4.16 (Pacific and social science component presenting as combined) = 60-minute presentation slot (mostly, 8 years)
---
Travel information
Flights
OTN will direct-book attendees' flights. If you do not book your travel at least 2 weeks prior to your planned arrival in Halifax you will not be reimbursed. Travel arrangements will be reimbursed following the Symposium.
Meals
Meals will be provided during the Symposium (Tuesday and Wednesday — breakfast, lunch, breaks, and during workshops). Additional meals (e.g. supper) for non-Halifax residents during their travel or stay will be reimbursed based on Dalhousie University per diem rates.
Accommodation
As this year's symposium falls on academic dates, Dalhousie residences are not available; accommodations for both HQP and PIs will be at The Lord Nelson Hotel under the OTN room block. The cost will be paid directly by OTN.
HQP: Please indicate one roommate of your selection with whom you will share accommodation.