Icebreaker – Tuesday evening (31 May)
Rockbottom Brewpub
5686 Spring Garden Road (Under Your Father's Moustache)

If you arrive in Halifax on Tuesday, please join us for a drink (cash bar) and light snacks at the Rockbottom Brewery. We will have a registration table set up between 5 and 8 p.m. Drop in whenever you can and stay as long as you wish. No registration is required, but this is a chance to pick up your name badge and a programme. Please note that Tuesday night is trivia starting at 8 p.m.

Academic Events
Wednesday (1 June) will consist of a full day of presentations by HQP with four plenary talks throughout the day. These events will take place in the Great Hall, the same site as the 2013 Symposium.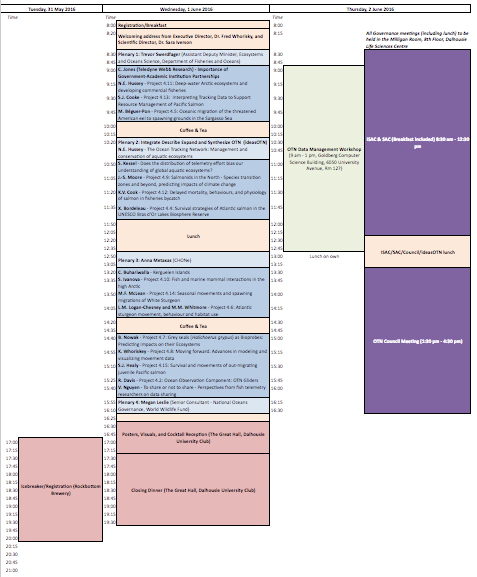 Plenary Talks

8:30 a.m.  Trevor Swerdfager

Assistant Deputy Minister, Ecosystems and Oceans Science, Fisheries and Oceans Canada
10:20 a.m. Nigel Hussey
The Ocean Tracking Network: Management and conservation of aquatic ecosystems

12:50 p.m. Anna Metaxas
Canadian Healthy Oceans Network (CHONe)

3:55 p.m. Megan Leslie
Senior Consultant – National Oceans Governance, WWF
Poster Session
All symposium attendees are requested to stay for the dinner and reception style poster session on Wednesday evening following the formal session in the Great Hall. Special guest speaker, senior consultant on ocean governance with World Wildlife Fund Canada, Megan Leslie, will open the poster session.