Please contact Tracy.Rounds@dal.ca to arrange your travel as soon as possible.
---
Travel information
Flights
OTN will direct-book attendees' flights. If you do not book your travel at least 2 weeks prior to your planned arrival in Halifax you will not be reimbursed. Travel arrangements will be reimbursed following the Symposium.
Meals
Meals will be provided during the Symposium (Tuesday and Wednesday — breakfast, lunch, breaks, and during workshops). Additional meals (e.g. supper) for non-Halifax residents during their travel or stay will be reimbursed based on Dalhousie University per diem rates.
Accommodation
As this year's symposium falls on academic dates, Dalhousie residences are not available; accommodations for both HQP and PIs will be at The Lord Nelson Hotel under the OTN room block. The cost will be paid directly by OTN.
HQP: Please indicate one roommate of your selection with whom you will share accommodation.
---
Programme and events
Icebreaker – Monday, October 16
The Lord Nelson Hotel
1515 South Park St
If you arrive in Halifax on Monday, please join us for a drink and hors d'oeuvres at The Lord Nelson Hotel beginning at 6 p.m. Drop in when you can and stay as long as you wish. No registration is required, but this is a chance to pick up your name badge and a programme. 
Presentation and workshops
Tuesday & Wednesday, October 17-18
The Great Hall, Dalhousie University
1 Alumni Crescent
Tuesday (October 17) will consist of a full day of presentations. Wednesday (October 18) will consist of presentations and workshops. These events will take place in the Great Hall, the same venue as past Symposia.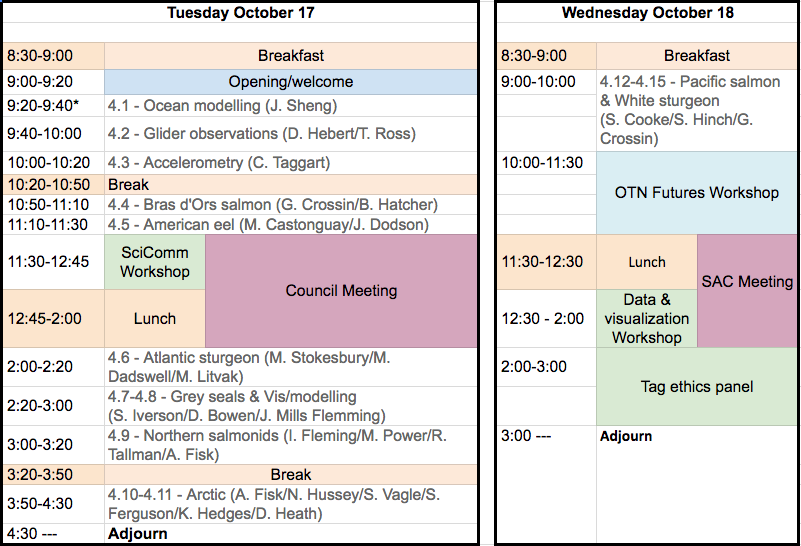 ---
Presentation format
No abstract is required. 
PPT presentation format is required.
This year's presentations will focus on a synthesis of each project over its entire duration – either four (4.4, 4.9, 4.14) or eight years (all remaining projects, assuming Arctic and Pacific are each presenting everything combined over their eight years) – by PIs and a panel discussion/Q&A conducted by HQP.
Presentations will be broken up into 20 minute slots for single projects and 40 minute slots for combined projects (1 hr for the four Pacific projects together). For each time slot, PIs will use half of the time to present an overview of the project, with the rest of the time devoted to a panel/Q&A by the projects' HQP. The purpose of this format is to succinctly cover the highlights and results of each project, and for sharing of ideas, methods, and discoveries.